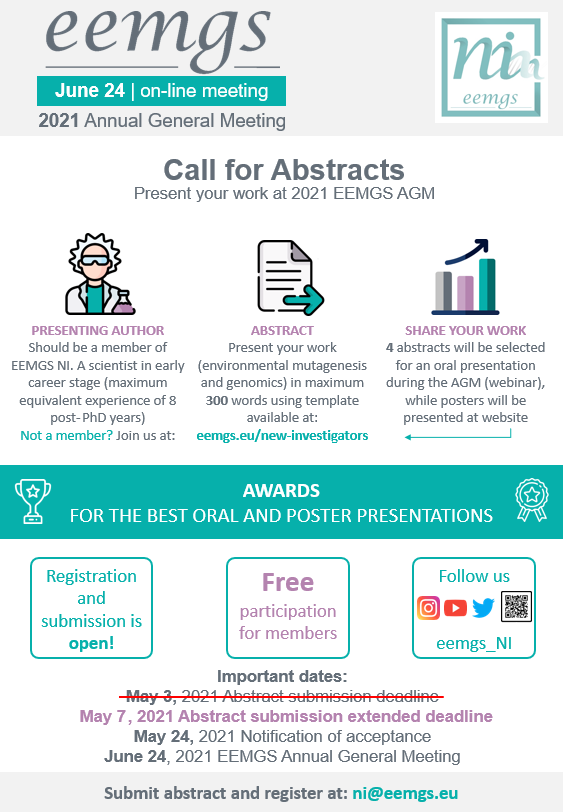 Dear New Investigators,
we would like to invite you to present your work at this years' Annual General Meeting (AGM) of EEMGS. During the meeting the New Investigators will have a session.
What will be presented?
The NI EXCOM will select 4 abstracts to be presented as oral presentations (webinar). The other abstracts will be presented as e-posters (visible on our website).
Who can apply?
The presenting author should be a member of EEMGS NI. All details about EEMGS NI can be found here, and how to join, if still not a member, here.
What are the benefits?
You will be able to share your work among top researchers in the field and get feedback. Of course there will be awards for the best oral presentation as well as for the best poster.
Are there any registration fees?
No, the participation is free for NI members.
What are the topics?
The research topic should fall into field covered by our Society, environmental mutagenesis and genomics.
What are the important dates?
The deadline for the abstract submission is EXTENDED to May 7th, 2021.
We will notify the authors about the type of presentation by May 24th, 2021.
The EEMGS AGM will take place on June 24th, 2021.
How to apply?
Please use the following guidelines for the abstract design, and send it along with your name, surname, affiliation, and address by e-mail (ni@eemgs.eu) in .docx format. Name your file: Abstract_surname_2021. Please indicate which local society are you member of in your e-mail. 
We look forward to meet you during the AGM in June.
Best.
EEMGS NI EXCOM.