Welcome to the European Environmental Mutagenesis and Genomics Society
This site is intended for EEMGS members and any party interested in the broad field of environmental mutagenesis and/or in our activities.
The EEMGS is a scientific society that encourages the study of mutagens and substances of related biological activity in the human environment, particularly as these mutagens may be of concern to public health, and to engage in and sponsor research, study and dissemination of information relating to the foregoing.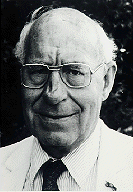 Frits H Sobels
EEMS Founder
The late professor Frits H Sobels took the initiative which led to the foundation in 1970 of the European Environmental Mutagen Society (EEMS) as an organization that promotes both fundamental and applied research in the fields of environmental mutagenesis and genetic toxicology.
The foundation of the Society was the result of discussions between a small group of geneticists and toxicologists who were seriously concerned about possible long-term adverse biological effects of chemicals in the human environment.
The main goal of the new Society was to study and evaluate potential genetic and carcinogenic hazards to man due to exposure to the increasing number and variety of chemicals in our environment.